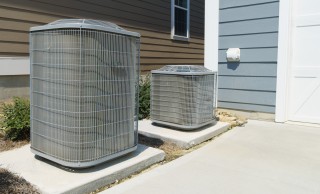 Elmhurst AC Repair
Is your air conditioning not keeping your home as cool as it used to or has your air conditioning even stopped working altogether? Don't replace it yet!
Contact Ace Appliance at 630-307-8444 for a free estimate before you spend the big bucks.
Our experienced air conditioning technicians can identify and repair many of the common problems with broken AC units and often save you the expense of purchasing a new unit or replacing more parts than needed. We've repaired hundreds of air conditioners in Elmhurst and surrounding cities saving our customers hundreds of dollars on AC repairs and kept a good AC unit in service by replacing or repairing only what's needed.
Common Air Conditioning Problems
If your AC is not working at all you can check your homes main electrical panel for a tripped breaker or a blown fuse. You should also confirm your thermostat is set to cool and that the power is on. If all of the above are working you may need to contact a professional.
Ace Appliance can repair common air conditioning problems includong replacing thermostats and fuses or even replacing fans and motors. Some of the common problems with AC units include:
Faulty AC wiring
Low AC refrigerant
AC Thermostat Problems
Outside AC fan is not working
Outside AC unit not functional
The AC coil is frozen
A free inspection of your unit can determine what is stopping your AC unit from performing properly.
Is it time to replace your AC unit?
Sometimes the cost to make a repair is enough that you might consider replacing your AC unit. While typical problems such as dirty coils and low refrigerant can be repaired quickly and inexpensively, problems with your AC unit's compressor can become more costly. But don't panic yet! Before you even consider replacing your AC unit an Ace Appliance technician can identify exactly what the problem is, allowing you to make the best decision on repairing or replacing your air conditioner.
What our customers have to say.
My AC stopped blowing cold air and I was bracing myself for the cost of a new unit since it was about 15 years old. I called ace at about 10am and Mike arrived a few hours later. I showed him where the ac unit was and then had to take a phone call. 30 minutes later I went to check in and asked Mike how things were going and he said, "we're done!". I went from thinking I was going to be spending thousands on a new unit to spending a few hundred AND now my AC works better than it did before. – Paul, Lombard.
If you would like a free estimate contact Ace Appliance at 630-307-8444 today.